Members Monthly Cash Draw Guide
15 July, 2021
At NRCU on the very first Friday of each month we host a monthly cash draw for our members that have signed up for it!
What can you win?
Top prize of €10,000
Second prize €4000
6 prizes of  €1000
(Yes every month we have 8 winners!)
Who can sign up for it?
Participation in the draw is strictly limited to eligible members
of NRCU who are 18 years of age or over on or before the draw
date.
How do you sign up for the draw?
Once you are on our website and go the "Downloads" section or click the following link Downloads
Scroll down until you find "Members Monthly Draw Entry Form", download the form or click the link here https://nrcu.ie/cuweb/wp-content/uploads/NRCU-Car-Draw-Form-2020.pdf
Once you have downloaded the form and read all the terms and conditions, print out the form
Fill it out
Drop it in to one of our branches
You're in !!
The form looks like this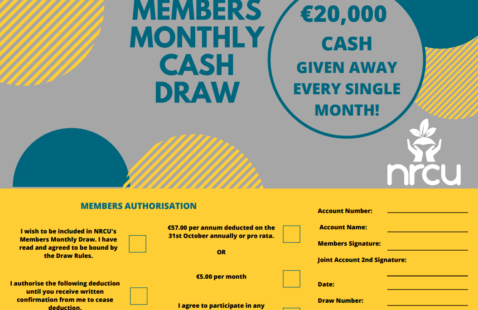 How much does this Cost?
The entrance fee of €57.00 per annum will be deducted in advance
from members shares on the 31st of October annually or pro rata.
or
An entrance fee of €5.00 per month on the last day of each
month will be deducted in advance from members shares
How do you leave the draw?
The form looks like this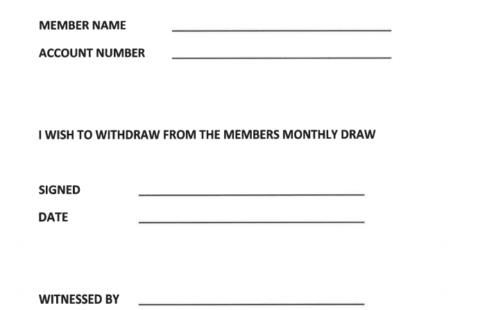 Please note:
A member will be ineligible
to enter the draw if they have less than €11.00 in their share
account at the time of deduction. Where this arises, the member
concerned will be automatically excluded from that months draw
and any subsequent draw where the balance in their share
account is below €11.00.
« MYCU Debit Card is Coming Soon!